Windshield replacement
Lebeau has been the number 1 choice for Quebecers for windshield replacement since 1947. With 75 years of expertise, our certified technicians are trusted by our clients largely because we only use the latest technologies and equipment. This allows us to be efficient and precise to replace your windshield. But above all else, it is worry-free because our windshield replacement is guaranteed for life1.
How is our service different?
Your windshield is one of the most important components of your vehicle with today's technologies. With Lebeau, you have the peace of mind and here is how we keep being your choice.
Get a quote online
Transparent pricing
Estimate your windshield replacement online in under 2 minutes! Get a price estimate and get your appointment easily when you're ready.
Your time is valuable
We take care of insurance claims directly with providers, saving you the inconvenience of doing it yourself. Flexible booking and windshield replacement that takes only 3 hours are also one of the main ways you can quickly get back on the road with peace of mind.
Replacement are guaranteed
Our work is guaranteed for life1 as long as you own your vehicle. Our certified technicians will make sure everything is hassle-free!
Our expertise at the best price
If you are insured for glass damage,
Pay only your deductible
We transmit your claim to your insurer.
Book an appointment
Pay out of pocket
Get a free quote in just a few clicks
Get a quote online
The Protect Plus™ Warranty is included
The Protect Plus™ warranty3 is a great way to protect your car from future chips. When your replacement is paid for with your insurance, this warranty will allow all minor breaches to be repaired at no additional cost for a period of 3 to 5 years, depending on your insurer. Thus, you don't have to worry if your windshield undergoes another impact while driving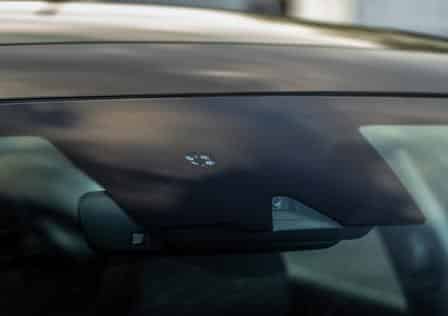 What if I have a camera behind my windshield?
If your vehicle is equipped with a camera behind the windshield, we will recalibrate it right after the windshield replacement using our state-of-the-art technology, ensuring your driver-assistance systems function properly.
Learn more about our recalibration
Windshield replacement, step-by-step
Vehicle preparation

A cover is placed over the vehicle, protecting the body and interior. This allows us to clean the vehicle of any debris and excess glue with precision without damaging anything.

Wipers are removed and the windshield too

We take out the wipers to ensure the smooth removal of the windshield.

New windshield prep and installation

We apply a primer to the windshield frame and new windshield. We then apply bonding glue to ensure perfect adhesion. The replacement windshield is installed with the use of exclusive equipment and tools.

Drying and resetting wipers

A minimum of 60 minutes is required for the new windshield to set. Then, the new windshield undergoes a deep cleaning to return to its original appearance.

Camera recalibration

A lot of newer vehicles have Advanced Driver Assistance Systems (ADAS). The recalibration is essential to ensure their reliability and performance.
Frequently asked questions
Why is so much information about my vehicle required before an auto glass replacement?

Because it's vital that we install the windshield type that best corresponds to the make and model of your vehicle.

We make every effort to order parts that precisely match your vehicle's specifications and replace your windshield as efficiently as possible.
Will you install the same glass as the manufacturer?

In most cases, OEE windshield (Original Equipment Equivalent) is recommended by windshield repair service centres since it has the same quality standards as OE (Original Equipment) windshield, but usually cost less.

Rest assured that our auto glass meets or exceeds all government, industry, and safety standards. All of our products and services undergo rigorous testing to ensure you receive the highest quality and state-of-the-art workmanship. If you have more questions, read our article about OEM and OEE windshields.
Does my insurance company or broker need to be notified before I get in touch with Lebeau?

No, we take care of that for you. We'll contact your insurance company and submit the claim on your behalf.
What our clients say about us
1 Replacement windshields come with a lifetime warranty that covers installation and manufacturing defects and leaks for as long as your vehicle is registered under your name, after which it expires once the vehicle is sold to a new owner. Should a defect appear over the course of the warranty period, we will take care of providing and installing the parts needed at no extra cost. This warranty excludes leaks caused by the deterioration of the vehicle body. This warranty does not cover damage resulting from vandalism, theft, natural disasters, illicit activities or deliberate acts.
2 Estimation of the average of the deductibles of our customers and provided for information purposes only.
3 Certain exceptions apply. Varies with provincial legislation and insurance coverage. Consult your insurance provider.